Big Game fishing
Sydney has been widely regarded as one of the best game fishing spots on the east coast. With the arrival of the big bluefin in late June 2012 Sydney is proving to be a hotspot & is fast becoming a year round fishery.
During the 2012 season "REEF MAGIC" has had great success targeting marlin & bluefin. We had a great season in Port Stephens catching and releasing striped, blue & black marlin. The highlights for us was catching the second biggest marlin during the 2012 LHURS Billfish Shootout weighing an impressive 198kg. Then 2 weeks later catching & releasing a 300kg blue marlin. We also caught a massive 25kg dolphinfish while trolling for marlin.
Our yellowfin season has been put on hold when a boat caught a 145kg bluefin off Sydney in late June 2012. We then headed out with a charter and boated 3 big bluefin up to 80kg which set the Sydney game fishing community alight. We have since over the past weeks caught plenty of others with our biggest at 104kg.
During the last few seasons we have caught our last marlin in late June while targeting yellowfin & blue fin tuna. We will use the latest satellite technology & SST charts to take you to where the fish are most likely to be. We also had some great catches of yellowfin with our largest at 68kg.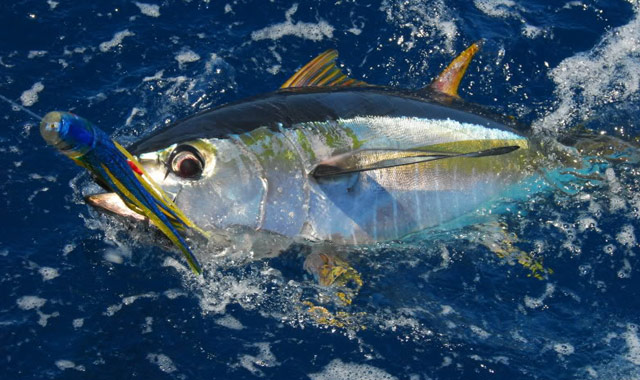 We will customize your charter to suit your needs. You can stop at the "12 mile" reef for some jigging for kingfish, troll or cube "Browns Mountain" or head north to the Norah Canyons or the "Baitstation" when the bite is hot.
Port Stephens is internationally renowned as a hotspot for Blue, Black, Striped marlin, yellowfin tuna & Mahi Mahi. It is the location of the famous "Interclub" game fishing tournament Australia's largest competition held in late February.
Come and fish with us from January through to April where we will take you to where the bite is. It is not uncommon during a "hotbite" that 6 or more marlin may be tagged in a day.
"REEF MAGIC" is conveniently moored at Soldiers Point Marina during this period and is available for single or multiple day charters. All quality equipment is supplied as well as a hearty lunch with soft drinks & water.
"REEF MAGIC" has a Tag & Release policy when game fishing for marlin unless prior arrangements have been made with the skipper when chasing potential world records.